Vietnam's stock market doubled in two years: travel by the way, open a household, more than 3,000 Chinese people enter
1comment 2019-04-15 16:02:02 source:Daily economic news Just do it next week! Steady!
And around the worldSecurities tradingIn the same way, in front of the two stock exchanges in Ho Chi Minh City and Hanoi, there is also a bull symbolizing the "bull market".copperimage.
However, compared to the Vietnamese stock market, few stock exchanges around the world have been able to do so in the past few years.
  From 675 points in January 2016 to 2000 points in early 2018, the Vietnamese stock index completed a feat of 196% in 2 years.Since 2019, the benchmark VN index of the Vietnam Ho Chi Minh Stock Exchange has risen by 12%. According to Bloomberg, Vietnam is the third-best global performer in the past five years.Stock market.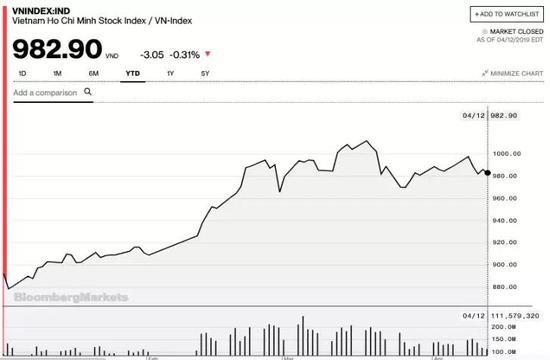 Year-to-date benchmark VN index of the Ho Chi Minh Stock Exchange (Source: Bloomberg)
Although the history of the short-lived Vietnamese stock market still has a lot of irregularities, it also allows some Chinese investors to see the huge potential contained in them.
According to the Securities Times,At present, there are more than 3,000 Chinese investors who open accounts in Vietnam, and the number of accounts opened this year is still growing rapidly. If the growth rate of account opening is relatively fast since 2019, it is expected that the total number of Chinese accounts can exceed 4,000 at the end of the first quarter.

Know the website user questions
  Vietnam will become a "new tiger" in Asia?
Statistics show that as of the end of last year, there were more than 2.1 million individual investors who opened securities accounts in Vietnam, accounting for about 2.26% of the country's total population. Among the more than 2.1 million retail investors, the proportion of foreigners opening accounts is less than 1.3%, and the sources are more diversified.
Although it is a retail-led market, institutional investors in Vietnam are also growing slowly. As of the end of last year, the number of institutional accounts in the Vietnamese securities market was 9,100. Among them, the number of accounts opened by foreign institutions was 3,242, an increase of 35 over the same period last year.
However, due to the low transaction volume and insufficient liquidity of the Vietnamese stock market, it has affected the attractiveness of foreign investors to a certain extent.
However, this situation is expected to improve, because the Vietnamese government is introducing strong measures to increase market liquidity and expand the stock market. Among them, there are two major events worthy of attention: First, with the help ofcapital marketChannels, the capital reduction and retreat of state-owned holding companies in Vietnam are progressing in an orderly manner. More large enterprises are listed in the queue, which is regarded as a better investment opportunity by the market parties. Second, the Vietnamese securities market trading system is brewing reform. The T+0 deal is scheduled to be launched as early as the end of the year to increase liquidity in the stock market.
Behind the stock market boom, it is inseparable from the growth of the real economy.At present, the Vietnamese economy is growing at an annual rate of more than 8%, and foreign investment is pouring into Vietnam.Managed about 550 million for institutional investorsDollarKevin Snowbauer, director of PXP Vietnam Asset Management, said, "Vietnam's long-term opportunities are huge. Vietnam has a young, vibrant group that is eager to improve their lives."
Despite mostprivate bankAnd wealth management companies still can't directly buy and sell Vietnamese stocks, but this also contains undiscovered opportunities - most investors have yet to notice the soaring Vietnamese stock market. But there are signs that Vietnam will soon be favored by global investors.
Such excellent performance in the Vietnamese stock market is not purely hot money. The ongoing economic reforms in Vietnam have given investors confidence in the prospects of the Vietnamese economy. The World Bank estimates that Vietnam will become one of the fastest growing economies in Asia this year, with GDP growth expected to reach 6.6%. August 2016, the British authoritative magazineEconomist"The article says that Vietnam will become another Asian tiger.
Vietnamese Prime Minister Hyun Chun-fu said at the ASEAN World Economic Forum in Hanoi last year.
"In the early 1990s, Singapore's per capita income was 125 times that of Vietnamese, and it has now shrunk to 24 times. Thailand's per capita income was 16 times that of Vietnamese, and it has now shrunk to 2.5 times. Compared with Japan, this is A number has shrunk from 267 times to 16 times; compared with the United States, this number has shrunk from 252 times to 25 times."
In addition, according toreal estateAccording to data from Knight Frank, the average wealth of Vietnamese people increased by 210% between 2007 and 2017. Currently, more than 200 Vietnamese citizens have at least $30 million in investable assets. During the period 2000-2016, the number of super-rich people in Vietnam also surged by 320%, faster than India and China. If the current trend continues, by 2026, the number of millionaires in Vietnam will increase by another 170% - from 14,300 to 38,600.
  Vietnam impacts MSCI
Vietnamese officials said they plan to cancel state-owned andListed companyForeign capital holdings restrictions. This is an important measure to sprint the MSCI index.
Forbes analysis believes that if Vietnam can improve free float next yearexchange rateAnd to adjust the market infrastructure to better adapt to foreign investors, Vietnam is likely to be included in the Emerging Markets Index by MSCI.
Daily Economic News (WeChat: nbdnews) The reporter also noted that in order to prepare for the inclusion of the MSCI Emerging Markets Index and improve liquidity, Vietnam launched the VN30 Index last year.Futures contractAt present, the Ho Chi Minh Stock Exchange is seeking approval from the Ministry of Finance to start stock exchange in the third quarter of 2019.WarrantTransaction. In addition, the Hanoi Stock Exchange also plans to launch Vietnamese government bond futures in the third quarter of this year.
According to the World Bank, the Vietnamese stock market is booming. As early as the end of 2005, Vietnam had only 41 local listed companies with a total market capitalization of only $1 billion. As of the end of September 2018, the total number of listed companies in Vietnam reached 206, with a total market value of nearly 22 billion US dollars. At the same time, however, the soaring Vietnamese stock market in recent years has also made some stocks extremely expensive. For example, Vietnamese dairy company Vinamilk has a price-earnings ratio of 38 times.
The Daily Economic News (WeChat: nbdnews) reporter also noted thatVietnam's capital market is still in its infancy.Foreign institutions have held about a quarter of the shares in circulation, and most of the remaining shares are held by retail investors in Vietnam.
Yu Yuehe, general manager of Mekong Securities in Hanoi, said that it is still difficult to obtain relevant information on listed companies in Vietnam. The Vietnamese capital market is still very imperfect compared to Singapore and Malaysia. "Native like ussecurities companyOnly started this yearFinancial report.We still have a big gap with developed markets."
  Open a residence with a travel visa
Since the Vietnamese government has liberalized restrictions on foreigners' stock trading, it is relatively simple for foreigners to open securities accounts. Hold their passports and travel endorsements at the local securities company's sales department. Recently, some Chinese who have made business visits to the local area have opened a stock account in their spare time.
So, what steps do foreign investors need to buy and sell stocks in Vietnam?
First, looking for a brokerage company in Vietnam: having a brokerage account is a necessary condition for investing in Vietnamese stocks. Since language barriers remain a major problem, foreign investors are often advised to go to some of the largest brokerage firms in Vietnam. Calculated by market share: Vietnam's top five brokerage companies are Saigon Securities, Ho Chi Minh City Securities, Vietnam Capital Securities Co., Ltd., VNDirect Securities and ACB Securities.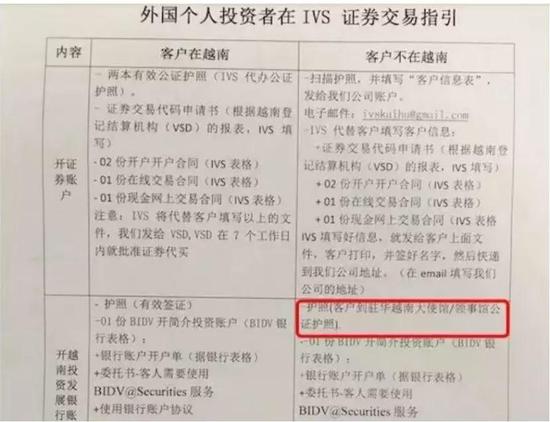 Second, open a Vietnamese brokerage account. Once you have chosen a brokerage company, they will ask you to fill out some documents. The specific types vary depending on the brokerage business, but generally include account opening applications, power of attorneys, application for securities trading codes, passport copies, and FATCA compliance documents (for US citizens only).
Third, open a bank account in Vietnam: stockbrokers can also help foreign investors open accounts in the banks they work with in order to hold funds and settle transactions, which requires filling out 1-3 forms.
Fourth, after applying for the securities trading code, after completing all other work, the brokerage company will apply for the securities trading code of the foreign investor, which is also a requirement for trading stocks in Vietnam.
Finally, it needs to be reminded that if you go to the bank to exchange foreign exchange, you must fill out a "Application for Purchase of Foreign Exchange", which clearly states: when a domestic individual handles the purchase of foreign exchange business, it must not be used to buy a house abroad.Stock investment,buylife insuranceAnd investment returns such as dividend-related insurance and other unopened capital projects.That is, the foreign exchange purchased is not allowed to be used for overseas stock trading. Please pay attention to this.
Keyword reading:Vietnam stock market
Editor in charge: Robot RF13015
Wonderful recommendation
The company will challenge the brokerage level of the two companies! The first 5 days no limit, the brokerage response

2019-04-20 06:35:50Source: brokerage China

The Political Bureau of the CPC Central Committee held a meeting on April 19 to analyze and study the current economic situation.

2019-04-19 17:03:03Source: Xinhuanet

Middle-aged monologue in the workplace: becoming a disregarded minority

2019-04-20 07:58:10Source: Tencent Finance

Fang Xinghai: Who said that this year's stock market improvement has nothing to do with foreign investment?

2019-04-20 11:26:54Source: Financial website

Single woman buying a house illustration: instead of forcing the other party to add a name, it is better to buy a house before marriage.

2019-04-20 09:18:49Source: Zhongxin Jingwei

The latest China "blocking city" rankings released Which city ranked first?

2019-04-20 08:12:21Source: Daily Economic News

Crazy stone! From 100 yuan to 10 million yuan, the jade market is too deep! Nothing to buy

2019-04-20 07:02:26Source: CCTV Finance

The gross profit margin of the company's board enterprises is large: up to 90%, the lowest minus 37%

2019-04-20 10:14:56Source: Shanghai Securities News

Securities Times: The price of dyed chemicals is "abnormal". The industrial and commercial sector cannot stand by.

2019-04-20 07:45:28Source: Securities Times Network

The number of applications for the listing of the company has increased to 89, and the number of inquiries has reached 66.

2019-04-20 07:20:13Source: Securities Times

The handover of the Wahaha Empire: "King" after the Zong Qing first retirement plan

2019-04-20 09:32:18Source: Economic Observer

The property market is warming up. The Politburo meeting also mentions that "the house does not fry" reveals an important signal!

2019-04-20 08:11:32Source: Daily Economic News

 Xinhua News Agency: The Central Political Bureau meeting transmits the four major signals of current economic work

2019-04-20 07:23:17Source: Xinhuanet

New progress in the case of the group loan network: the recovery of the frozen Tang and Zhang's transfer of hidden funds of 881 million yuan

2019-04-20 06:34:08Source: Financial website

Huatai Macro Comment on the Political Bureau of the Central Committee: The central government's judgment on the current economic situation is more positive

2019-04-19 20:15:32Source: Financial website

Should young people still start a business? Feng Lun: Young needs to toss

2019-04-20 08:26:13Source: Financial website

370 billion state-owned giants enter the credit rating industry, big public credit letter welcomes new students?

2019-04-19 06:37:02Source: brokerage China

A-share double "heavy" strike! The trillions of funds are being assembled. The circle of friends has gone straight to 3500.

2019-04-20 12:40:51Source: brokerage China

The Shanghai and Shenzhen stock exchanges have disclosed 2000 annual reports. More than 200 companies have doubled their performance.

2019-04-20 07:27:02Source: Shanghai Securities News

Is the 12.1 billion land sales debt not enough? China Democracy has another 2 US dollar bonds to trigger cross-default

2019-04-20 06:36:22Source: brokerage China
load more