Home >economy Channel > text
People's Network Review: LV quality problems blame China's soil and water, this black pot we do not back
2019-01-21 16:57:39

People's Network
People's NetworkJanuary 21st news,After using it twice, I found that the handle will fall off the paint.When you are caught on your body, the shirt will also be stained with black things... According to reports, Mr. Wang of Hangzhou bought a LV bag.There have been problems many times.The explanation given to Mr. Wang by LV Shanghai Headquarters made him incredible.The other party hopes that Mr. Wang will wear a white shirt and wear more black clothes. As for the handle, the paint is a problem of water and soil.......
"I don't accept the water, I will serve you!" LV Shanghai headquarters blamed the handle paint for China's water and soil problems, people can not help but can not help but think of a network buzzword. It turns out that as a high-end luxury LV bag, the quality is not even as good as the goods, how is it ironic? If you want a backpack, you can't wear a white shirt. Would you rather give it a bag?
If the color loss reveals a quality problem with the LV product, then the non-conformity response reflects the lack of basic professional ethics.As a staff member of LV Shanghai headquarters, it is not an individual, but a corporate image. Some irresponsible rhetoric, in addition to hurting consumers, also hurts the LV image, giving the public a sense of LV lacking due Business ethics does not respect consumers.
The most important thing is that the problem is not self-examination, but there is no self-reflection, but a direct shaving.This black pot, China does not have water and soil. Excuse me, do other luxury goods have similar serious problems? Since the soil is not convinced, why is it still high-profile sales?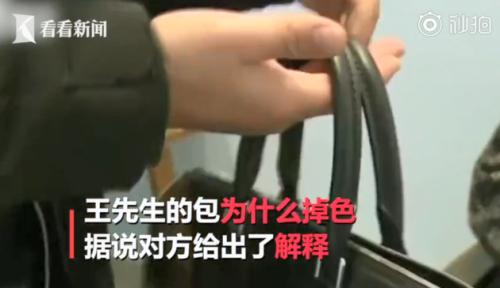 Image source: Take a look at the video screenshot
As one of the most successful luxury brands operating in China, LV Group has earned a lot of money. While earning a lot of value, does it output healthy values, that is, using high quality and perfect after-sales to create a good corporate image, demonstrating corporate responsibility? As a veteran luxury goods company, LV is widely distributed in China, but when it comes along, it is also criticized, from price discrimination to quality problems. Where is the problem?
No matter how long a luxury group has a long history, if the quality is worrying, consumers will not hesitate to give up.The reason is that Chinese consumers are becoming more and more mature, no longer simply chasing the extension of luxury goods; Chinese consumers are becoming more and more rational, demanding the corresponding consumption dignity, the kind of shop bullying and even not spending The arrogant behavior of the event is doomed to no market.
The latest news shows that the party said on Weibo: "The LV headquarters just called me and agreed to replace the new package... LV, you can change your proud face, earn the money of Chinese consumers, but look down on China. Consumers, the market will vote with their feet, at least I will never step into your store." If this is true, it may indicate that LV Shanghai headquarters is correcting mistakes. The issue is,How much sincerity is this kind of error correction? Will LV Group respond like this without public opinion supervision?
At present, how the entanglement between Mr. Wang and LV Shanghai headquarters will end, it still needs to be observed. There may be some details that need to be taken out, and there are still many problems that need to be analyzed. However, it can be confirmed that the response of LV Shanghai headquarters is not fair, not only can not convince the parties, but also can not convince the public. andThis incident is not a "competition" between a consumer and a luxury goods company, but a public event with a certain public topic nature, reminding the regulatory authorities to intervene in time, reminding the relevant luxury goods companies to be kind to consumers, and reminding no matter what enterprise All should put consumers at the top of the list.
Culture is the soul of the brand, and brands without cultural connotation lack vitality. The process of brand growth is the process of technological upgrading, the process of quality improvement, and the process of corporate responsibility. Establishing a brand is not easy. It requires a long and arduous process. It requires the continuous infiltration of culture. It requires the painstaking efforts of a generation or even generations, but once it is not handled properly, it may be destroyed. Therefore, it is expected that more luxury companies will truly respect consumers and create a brand that is well-known and has a long history.
Editor in charge: Robot RF13015