Home >Technology channel > text
Shanghai Netcom Office launched a "review" review of 23 interviewed apps
2019-02-11 12:23:56

Net letter Shanghai
In October 2018, the Municipal Network Information Office carried out a random spot check on the application of the 23 most commonly used apps in the local area to obtain the user's personal information, and the problem of unreasonable application rights and excessive request for personal information of the users found in the random inspection. The company's App operating companies conduct interviews and require that the R&D work be carried out in a practical manner, and the main responsibility should be strictly implemented. Recently, the Municipal Network Information Office carried out a "review" re-testing work on the rectification of each App based on the time node that was completed by the App Forum.
According to the results of the security spot check, combined with the actual development of the operating enterprise, the number of "unreasonable authority" before the rectification was finally determined to be 164, and the number of "reasonable but risky authority" was 113.
The Municipal Network Information Office supervised and implemented the rectification work of the various App operating enterprises, and required all enterprises to do a good job in rectification according to the rectification report.As of mid-January, the App has rectified 158 "unreasonable permissions" and 98 "reasonable but risky permissions." After the rectification, the remaining 6 "unreasonable authorities" have not been rectified due to the strategic adjustment of the enterprise, etc., but all the detailed rectification plans have been listed. The remaining 15 "reasonable but risky rights" cannot be completed due to the limitations of the Android system. The one-time authorization will be rectified, but the network security management will be strengthened for such rights, and the risk of personal information leakage will be strictly prevented.Please refer to the attached table for the number of permissions before and after the rectification of each app and the rectification plan for the rectification authority.
Next, the Municipal Network Information Office will, in accordance with the "Notice on the Implementation of Special Regulations on the Collection and Use of Personal Information by App Violations and Regulations", strengthen the supervision and punishment of the application for violation of laws and regulations, and the collection of personal information of users. The company conducts a re-examination.
After the official application of the basic business functions and necessary information specifications for the popular application, and the collection and use of personal information governance assessment points by the App illegal and illegal collection, the Municipal Network Information Office will apply to the app with a large number of local users and closely related to people's lives according to relevant norms and key points. The privacy policy and the collection and use of personal information are comprehensively evaluated to further reinforce the cyber security main responsibility of the App operating enterprise, safeguard the legitimate rights and interests of the majority of netizens, and protect the personal information of users.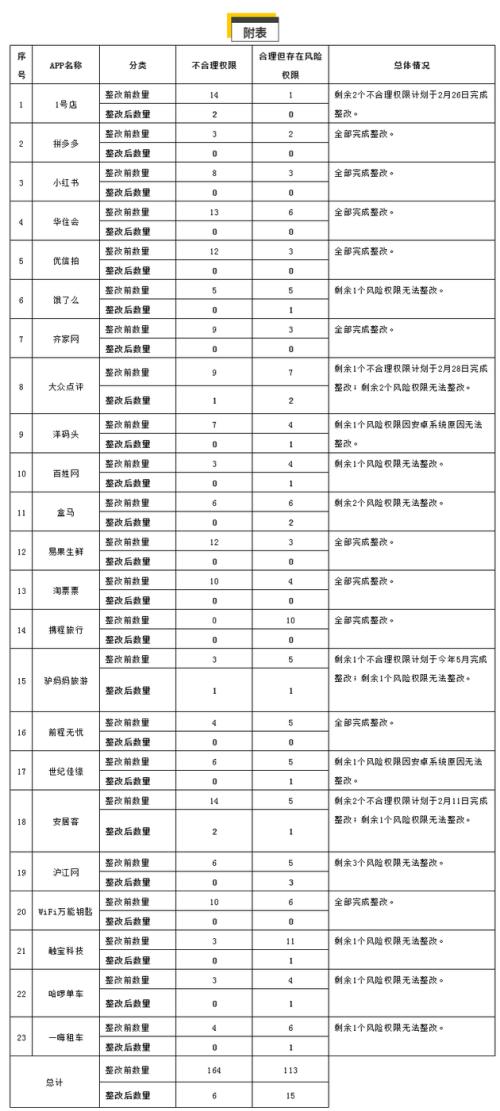 Editor in charge: Zhang Zhenjiang