Home >Forex channel > text
EIA stocks fell sharply OPEC+ cut production positives US oil rose more than 2% to a new four-month high
2019-03-14 08:20:50
Beijing time on Wednesday (March 13) at 22:30, the US Energy Information Administration (EIA) released data show that as of March 8th, the United States in addition to the strategic reserve of commercial crude oil inventories decreased by 3.862 million barrels to 449.1 million barrels, reducing 0.9%. Crude oil inventories in the Cushing region of Oklahoma decreased by 672,000 barrels, and the change recorded a decline for three consecutive weeks. Last week, gasoline inventories fell by 4.624 million barrels. The change recorded a decline for four consecutive weeks and reached a new low since the week of October 26, 2018 (20 weeks). Refined oil inventories increased by 383,000 barrels, and the change recorded a decline for three consecutive weeks.
After the data was released, the US oil price expanded to 2.13%, the highest since November 16 last year to $58.08/barrel.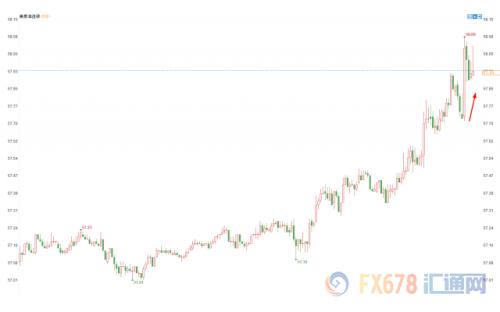 Last week, US domestic crude oil production fell by 100,000 barrels to 12 million barrels per day, and US domestic crude oil production hit a new low since the week of December 14, 2018 (13 weeks). The average supply of US crude oil products was 20.872 million barrels per day, an increase of 2.2% over the same period last year. In addition to strategic reserves, commercial crude oil imported 6.746 million barrels per day last week, a decrease of 255,000 barrels per day from the previous week. US crude oil exports fell by 257,000 barrels per day to 2.546 million barrels per day last week, and crude oil exports fell for three consecutive weeks.
The financial blog zero-hedged assessment said that the EIA short-term energy outlook report expects US crude oil production to decrease by 110,000 barrels per day this year. This morning, API data showed that US crude oil inventories fell unexpectedly. At the same time, OPEC is also stepping up its implementation of the production reduction plan. Canada's EIA stocks fell last week, and crude oil prices rose for the third consecutive day. Bjarne Schieldrop, chief commodities analyst at SEB AB, said the situation in Venezuela is rapidly deteriorating and that OPEC continues to implement production cuts, all of which are bullish on crude oil prices.
API crude oil inventory unexpectedly reduced the US crude oil 57 barrier to stand firm
According to data released by the American Petroleum Institute (API), the US crude oil inventories unexpectedly decreased by 2.58 million barrels in the week ending March 8, with an expected increase of 2.861 million barrels; gasoline inventories decreased by 5.8 million barrels, and expected to decrease by 2.748 million barrels; refined oil inventories An increase of 195,000 barrels is expected to be reduced by 1.705 million barrels; US crude oil imports last week decreased by 523,000 barrels per day to 6.4 million barrels per day. After the data was released, the US oil short-term quickly rose to recover the $57 mark.
Since late February, US crude oil has maintained a volatile trend. As US crude oil production continues to increase and OPEC+ continues to reduce production, the market needs further information to push for direction. Despite the poor non-agricultural data, US crude oil fell below the key support level of US$55 in a short period of time, but Saudi Arabia said it will further reduce production by 500,000 barrels per day on the basis of the previous reduction of nearly 800,000 barrels. . At the same time, with the recent EIA cut the 2019 and 2020 US crude oil production expectations, this makes US crude oil further higher.
OPEC+ production continues to decline
Saudi Arabia wants to reduce production by another 500,000 barrels per day.
According to a Saudi Arabian official who understands the relevant policies, Saudi Arabia will supply crude oil to customers in April far below their previous requirements, and implement a larger-scale reduction in production measures for the second consecutive month.
The official pointed out that Saudi Arabia's planned production in April is far less than 10 million barrels per day, and the output is expected to be similar to that in March; the country will increase its production in March by 500,000 barrels per day in February. In addition, the refinery's April oil supply request to Saudi Arabia was more than 7.6 million barrels per day. However, Saudi Arabia's oil supply to overseas customers will be less than 7 million barrels per day, which is 635,000 barrels per day lower than the size required by refineries.
It is reported that Saudi Arabia has reduced production by nearly 800,000 barrels per day, and completed the stated target set by OPEC at the December production reduction meeting. If Saudi Arabia further reduces production by 500,000 barrels per day, it means only one country in Saudi Arabia. Completed all OPEC+ production reduction targets - 1.2 million barrels / day.
Venezuela suffered a blackout and crude oil exports and production were hindered
In addition to Saudi Arabia's sharp cuts in production, Venezuela suffered a large-scale blackout last weekend, which poses a further threat to the country's crude oil exports and also supports oil prices, which have affected most of Venezuela's territory. According to Energy Aspects, Venezuela's oil exports have been severely damaged and its production may have fallen by about half a million barrels per day.
Analysts say that the more serious problem now is that if the power restoration work is delayed due to lack of funds and personnel, it may aggravate the decline of Venezuela's exports. It is reported that in recent years, the country has suffered a large number of power outages.
Russia reiterates that it will maintain production cuts
In addition, Russia, which has been weak in production, has recently made a public statement on the continued reduction in production, further strengthening the expectation of higher oil prices. Russian Lukoil President and CEO Alekperov said on Tuesday that at the Energy Ministry meeting earlier this month, Russian oil giants said they would stick to Russia's commitments at the OPEC+ production cut meeting.
Alekperov said that despite the differences between Russian oil companies, the former CEO of Russian oil companyIgorXie Qin sent a letter to Putin, arguing that there is no need to maintain a production reduction agreement, but at present Russia has agreed to maintain production cuts. There are no plans for the second half of 2019 and it is expected to be considered after the April meeting. At the same time, Russian Energy Minister Alexander Novak said last week that Russia will speed up production cuts this month and plan to do so? At the end of March or early April, the previously promised reduction in production was achieved.
According to the production reduction plan, Russia will cut production by 228,000 barrels per day, which will reduce Russian production from a record 11.421 million barrels to 11.193 million barrels per day. If Russia can achieve the target of reducing production as scheduled, it may further boost the market's view on oil prices. It is expected to push the oil price test above the key $60 mark.
US crude oil drilling for three weeks
The weakening of US crude oil production is mainly reflected in the significant decline in the number of crude oil drilling in the United States. As of the week of March 8, the number of oil wells fell by 9 to 834 units, which was the third consecutive week of decline, hitting the lowest level in 10 months, or suggesting that production growth will slow down. ANZ said that this is the third consecutive week of decline, after some oil producers cut their spending prospects in 2019.
Geopolitical and trade situations are also key factors affecting oil prices in the future
As the Sino-US trade progressed, oil prices have recently remained above $55. The market will pay more attention to the progress of the trade situation, especially whether the United States and Europe and Japan will finally reach an agreement on automobile tariffs. At the same time, as the Iranian crude oil sanction exemption is about to expire in May, the market is closely watching the relevant US stance, if the US fails to extend the exemption period, or the crude oil supply will be reduced by 1 million barrels per day for a short time.
Platts data at the end of January showed that although Iran's major Asian customers, Japan, South Korea, India and China, once again purchased Iranian crude oil, the purchase rate was much lower than before the US imposed sanctions in November last year, especially from India, Japan and South Korea's import of Iranian crude oil is at least half the rate before the sanctions took effect;
Based on this Platts energy forecast, Iran's oil exports will fall to 1.2 million barrels per day in the first four months of 2019, and further decline to 860,000 barrels per day in the fourth quarter of this year, which may further offset the increase in US crude oil production. The impact of short-term driving oil prices has rebounded rapidly.
It is reported that India hopes to continue to purchase Iranian crude oil, while the country is negotiating with the United States to extend the time for sanctions exemption. At present, India's crude oil imports to Iran are 300,000 barrels per day. However, the time node of the talks just benefited from the escalation of tensions between the United States and India. The United States said it planned to end its MFN status for India and impose a $5.6 billion tariff on its products entering the United States.
Market participants pointed out that it is difficult for India, which has a growing demand for crude oil, to "quit" its dependence on Iranian oil. According to the IEA, China and India accounted for 44% of the increase in oil demand. On the eve of the Indian election, if the United States fails to extend India's sanctions exemption for Iran's crude oil purchases, it may adversely affect Modi's re-election, thus damaging domestic demand prospects, which will be a negative for oil prices.


Editor in charge: Dou Xiaowei