Trump once again "bombed" the Fed "terrorist data" hit a strong week
1comment 2019-04-15 08:51:24 source:FX168 Financial News Agency The second beauty energy comes!
US President Trump again on weekendsFederal ReserveTo blame, if the Fed works properly, the US GDP growth rate should be much higher than 4%. Investors will be concerned about whether Fed officials will respond to the president's comments in this week's speech. This week, investors will welcome a lot of important data, the most concerned of which is undoubtedly the US retail sales data known as "terror data." In addition, investors will also pay attention to trade issues, which are expected to have an important impact on this week's trend.
  Trump once again "bombed" the Federal Reserve
US President Trump launched the latest "attack" against the Fed on Sunday, claiming that if the Fed did not take action,US stock marketWill be "more than 5,000 to 10,000 points".
Trump issued a tweet on Sunday saying: "With little inflation, if the Fed works properly, then the stock market will rise by 5,000 to 10,000 points, and GDP will far exceed 4% instead of only 3%... Tightening is a killer. It should have done the exact opposite!"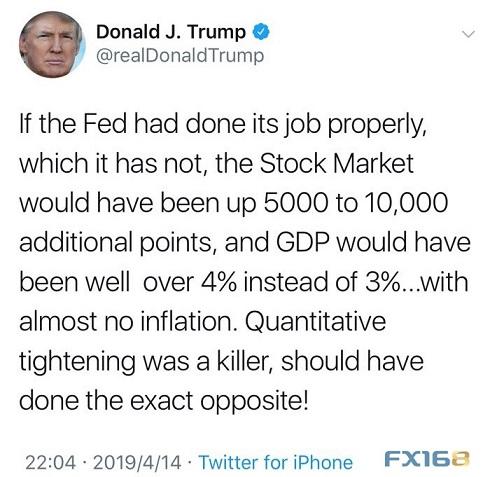 If Trump refers to the Dow in the tweet, then what he means is that if the Fed does not take action, the index may exceed 36,000. The Dow closed at 26,412.30 on Friday.
According to Bloomberg, informed sources have previously revealed that Fed Chairman Powell told a lawmaker at a Democratic party a few days ago that the Fed will not succumb to political pressure.
The Fed's apparent dovish shift at the March meeting reduced the expectations for rate hikes this year to zero. In addition, Fed policymakers said they would end their balance sheet contraction in September.
Fed Chairman Powell said at a press conference after the March meeting that economic growth has slowed more than expected. As global risks put pressure on the economic outlook and inflation remains low, interest rates may remain unchanged for a period of time.
Powell recently made it clear that he and his colleagues are not in a hurry to adjust interest rates because of slowing economic growth and keeping inflation low. Despite this, Trump is still "not refusing to spare", and his accusations against the Fed are constantly escalating.
US President Trump said on April 5 that the economic data is very, very good; the Fed actually slowed down the US economy. The Fed should cut interest rates and stop quantifying the tightening.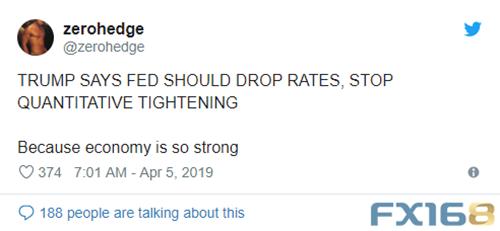 Trump then said: "The Fed should cut interest rates, they did slow down our speed do not see inflation.."
In the past few months, US President Trump has been accusing the Fed-led Fed of raising interest rates wrongly, dragging the US economy and the stock market.
Earlier reports said that Trump had called Fed Chairman Powell on March 8. At that time, concerns about the US job market caused the US stock market to hit its biggest weekly decline this year.
In 2018, Trump also repeatedly criticized Fed Chairman Powell and the Fed for a series of interest rate hikes.
On December 24 last year, US President Trump said on Twitter on Christmas Eve that the Fed "has no feeling for the market" and "the only problem with our economy is the Fed."
On November 20 last year, US President Trump once criticized the Fed, saying the Fed was a "problem" and called for lower interest rates.
Trump choice to replace Powell Yellen as Fed chairman, but later hinted regret this decision. According to Bloomberg reported on December 21, it is reported that Trump discussed the need to replace Fed Chairman Powell.
  "Terror Data" strong incoming
US economic data released this week, including retail sales, housing data, and the New York State manufacturingindustryProduction data. In addition, the Fed will release its Beige Book.
Analysts said the data will be this weekDollar,goldThe trend plays a crucial role. They pointed out that the release of a series of data may trigger more volatility in the market.
Phil Streible, senior market strategist at RJO Futures, said, "Gold seems to have responded to the Fed's assumptions about data, and some data once again prove that raising interest rates is reasonable."
Streible pointed out: "If you areGold investmentHousing data such as housing starts and building permits in the United States are key factors that need to be closely watched. "
He said: "If this week'sreal estateThe data is weaker than expected, and we may see the Fed being more cautious about interest rates. They don't want to completely destroy the real estate market. "
At 20:30 Beijing time on Thursday, the US Department of Commerce will release retail sales data for March. Given its consistent influence, data performance may have a significant impact on the market.
Foreign media surveys show that the monthly retail sales rate in the United States is expected to rise by 0.8% in March, down by 0.2% last month. The US core retail sales rate in March is expected to rise by 0.7%, down 0.4% last month.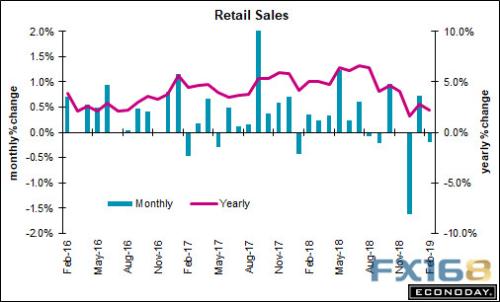 Because the Fed emphasizes that interest rate decisions will depend on economic data, and consumer spending accounts for about 70% of US economic output, US retail sales data often "stuns" in financial markets, so it is called "terror data".
Bart Melek, global strategy director for TD Securities, said retail data may also beGold pricehave a huge impact. He said that any data above market consensus will prevent the price of gold from breaking through its range.
Melek explained that if retail sales failed to rebound sharply this week, gold would benefit, and traders might see gold prices rise to $1,306 per ounce and then rise to $1,320 per ounce.
  Focus on trade issues
Investors will also pay attention to trade issues, and it is expected that relevant developments will have an impact on market trends.
According to foreign media reports, EU diplomats aired anonymously on April 12 local time. The European Commission is seeking to impose punitive tariffs on US exports worth US$12 billion in retaliation for US failure to comply with the cessation of subsidies to Boeing. The preliminary ruling of the World Trade Organization (WTO).
It is reported that the EU actually drafted a value of 20 billion.EURTariff counter-checklist. EU diplomats explained that considering the list to be circulated to EU member states and commenting, a list of 20 billion euros could be set aside to reduce the space during the consultation period.
Foreign media reports pointed out that EU diplomats said that on April 15, the EU will hold a meeting on this tariff list, and it is expected that the tariff list with a total amount of US$12 billion will be announced on April 17.
According to the description of EU diplomats, the EU has carefully selected products with high sensitivity in European and American trade, including: video game consoles, fitness equipment, casino gaming tables, tobacco, vodka, orange juice and a range of foods. It includes chocolate, ketchup and frozen lobster.
US President Trump commented on Tuesday's proposal to impose tariffs on $1 billion in EU goods on Twitter for the European Union's subsidies to Airbus.
Trump said in the tweet, "The World Trade Organization found that the EU's subsidies to Airbus have had a negative impact on the United States. The United States will impose tariffs on 11 billion US dollars of EU products! The EU has been trading in the United States for many years. It will stop soon!"
In addition to the tense trade situation between Europe and the United States, this week the United States and Japan will also open trade negotiations.
Japanese Prime Minister Shinzo Abe is eager to avoid tariffs or quotas on Japanese exports. Trump has threatened to impose tariffs of up to 25% on all cars exported to the US, including those made in Japan.
There were many risk events last week, especially in Europe and America.Central bankThe latest sounds are released, but what is surprising is that market volatility is still low. A well-known investment bank said that the most likely factor in the market is the trade problem.
According to Bloomberg, Bipan Rai, head of foreign exchange strategy at the Canadian Imperial Bank of Commerce, pointed out that there is a disturbing calm in the market in the face of the central bank.
Rai said: "The dovish transformation of the G10 central bank is more like a patient stance, and the market has seen it as a rate hike is getting closer."
Because the market is quite calm,Foreign exchange marketThe trading range of major currency pairs has narrowed. Rai believes that this calm may continue until investors' major changes to the central bank's expectations.
At the same time, Rai is closely watching the progress of the global trade war to find any signs of market turmoil.
Rai pointed out that it is trade that is most likely to have an impact on the market, especially if the situation in the United States and the European Union escalates.
Bloomberg's latest weekly gold survey released on Thursday showed that gold traders and analysts have changed from a neutral view of the previous week to a strong bullish gold price. Of the 20 gold traders and analysts surveyed by Bloomberg, 15 are bullish, 2 are bearish and 3 are neutral.
One of the reasons for the bullish gold price mentioned by respondents is that trade tensions between the United States and the European Union have intensified.
Once trade tensions intensify, it may trigger a rise in risk aversion, which will benefit the price of gold.
Keyword reading:Federal Reserve Dollar
Editor in charge: Dou Xiaowei
Wonderful recommendation
Sudden big market! Palladium has pulled more than 50 US dollars.

2019-04-18 09:34:35Source: FX168 Financial News Agency

Is it a big market night? Three heavyweight data hit the market and the market is likely to fluctuate

2019-04-18 09:32:34Source: FX168 Financial News Agency

Global central banks are becoming more politicized. It is more difficult to control inflation and promote economic growth.

2019-04-18 08:57:42Source: Huitong Net

The market is not calm! The market is now a hundred points big market

2019-04-17 09:43:45Source: FX168 Financial News Agency

Nasdaq stood at 8000 points and reached a settlement with Apple. Qualcomm's share price soared more than 20%

2019-04-17 08:54:45Source: FX168 Financial News Agency

Financial breakfast: the dollar weakened, the euro fell back, and the gold five-year yin closed at the new low in the year.

2019-04-18 09:31:42Source: Huitong Net

China's economy is improving, investment banks are bullish on the Australian dollar

2019-04-18 04:42:59Source: China Securities Journal

OPEC Monthly Report: The Venezuelan crisis caused a sharp drop in production in March. The crude oil market is expected to tighten.

2019-04-11 08:29:07Source: Huitong Net