Home >Gold channel > text
Gold bulls hope: a picture? Senior trader's latest interpretation
2018-11-18 16:09:28

FX168
Gold is seen as a safe haven to escape the market storm. In the case of uncertainty, investors who are frightened can seek comfort from gold.
When the Volatility Index (VIX) soared and the stock market began to plummet, it was the time when gold glittered.
In other words, it is now. This environment should be a time when gold investors are excited.
Then why is this not the case? Even if global stock markets plummeted in October, it is still difficult to attract bullish eyes when gold prices.
In fact, the price of gold fell by 10% from its April high, as the strong dollar suppressed any significant rebound in gold.
However, senior trader Chris Kimble said that there is still hope for the gold bulls. From a technical point of view, the key lies in the following picture: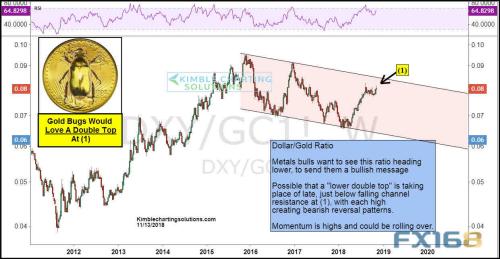 (USD/Gold Chart Source: KimbleCharting, FX168 Financial Network (blog, Weibo))
Kimble said the dollar/gold ratio is one of his favorite indicators when predicting the movement of precious metals. He said that this may indicate that the price of gold will rise.
According to this picture, he pointed out: "We can see that the dollar/gold ratio has climbed from the end of 2011 to the beginning of 2016, which has had a serious impact on the price of gold. Since the peak in early 2016, this ratio has formed a A wide decline channel. Every low fluctuation will bring a downwind to the price of gold. On the contrary, every rise is a headwind."
Kimble explained that the ratio has been revised upwards and is accumulating strength after testing the bottom of the channel earlier this year.
He said that the movement back to the top of the channel this year has kept the price of gold low. Each of the previous highs coincided with the peak kinetic energy. As you can see, the momentum seems to have reached its peak again and may be reversed.
Editor in charge: Shen Xuejiao RF13056