Home >Gold channel > text
Is it time to configure gold? This investment bank lists the many risks investors face.
2019-03-14 12:53:26

Gold headline
As the price of gold climbs, a bank reiterates its bullish attitude toward gold, saying that gold will rise steadily in the future, rather than sporadic and occasionally higher.
A new report released by RBC Capital Markets shows that gold prices will rise in the next two years, with an average price of $1,338 in 2019 and $1,367 in 2020.
Christopher Louney, the bank's commodities strategist, said: "The outstanding performance of gold in 2019 is not so much a sudden rise, it is better because it is slowly rising steadily."
RBC pointed out that investors no longer ignore various market risks, but turn to gold for protection.
"People's conversational themes have shifted from simple market uncertainty (which has been neglected since the talk) to recognizing market risks, whether the risks are large or small. We believe that gold benefits from this environment, and the unique attributes of gold make it a Attractive configuration assets."
The RBC also lists the greatest risks in 2019 and 2020, which is largely conducive to gold. These risks include the secession of the US government, trade tensions, inflationary trends, slowing economic growth, stock market volatility, uncertainty about future rate hikes, and geopolitical risks.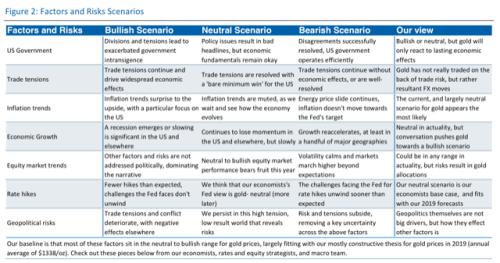 Louney said: "We still believe that macroeconomic disadvantages have weakened, gold fundamentals are healthy, and market winds have turned to increase gold allocation."
The strategist pointed out that, in the final analysis, this is because investors' interest in gold has increased and demand has risen.
"We believe that dialogue among investors who tend to invest in gold will stimulate them to allocate gold and increase market interest in this area. Coupled with the weakening of the macroeconomic downturn, we believe gold prices will rise to an average of this year. $1,338."

The bank also said in the report that the stock market and the US dollar will no longer be obstacles to the rise in gold prices, both of which have fallen slightly from the highs of 2018.
Finally, RBC also pointed out that gold will steadily climb to the middle of the year and then adjust back near the end of the year, but will start to rebound in 2020.
Louney said: "From 2019 to 2020, we will see the long-term appeal of gold as a diversified and value-preserving tool."


Editor in charge: Lu Shan RF10057