Home >Gold channel > text
Investors flooded into the gold market to hedge their risks. Gold broke through 1310 and hit a two-week high.
2019-03-14 12:57:52

Gold headline
Although US stocks rose to a four-month high, gold continued to rise due to market risk aversion. Spot gold rose nearly 10 US dollars on Wednesday, breaking through the level of 1310 US dollars in one fell swoop, hitting a two-week high, which is the second consecutive trading day for gold.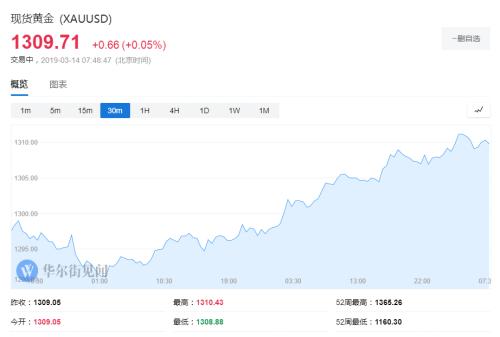 Commerzbank said in a report released on Wednesday that the continued uncertainty of the Brexit and the Fed's expectation of a temporary rate hike should support gold. The endless Brexit chaos should keep gold's safe-haven demand at a high level, and the US "downturn" inflation data may encourage the Fed to remain cautious.
The British Parliament voted to veto a non-agreement of Brexit, which could have disastrous consequences for the British economy, opening the door to delaying the Brexit and rehabilitating the Brexit agreement. Encouraged by this, the pound surged more than 2%, the highest in nine months, and is expected to record the biggest increase in the year.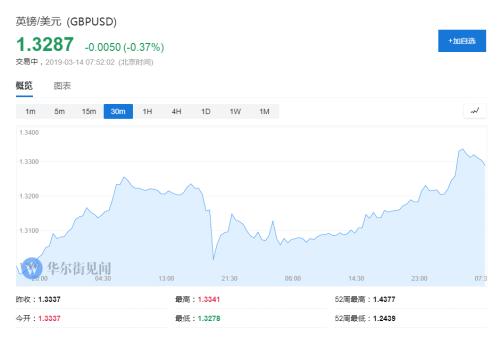 TD Securities pointed out that gold is still supported by the dollar correction. The US dollar index continued to weaken after hitting a new high above 97.7, which is good for gold and silver. The US dollar index fell to its lowest level in nearly two weeks on Wednesday and continues to run below the 97 mark.
TD Securities analysts also pointed out that the global macro economy is not optimistic, and any disappointing news will boost the formation of gold. Investment advisers are also expected to increase their positions in gold, and gold prices are expected to be pushed above $1,320.
As gold steadily climbed, WTI oil prices also rose to their highest level this year, as the decline in US crude oil and refined oil inventories increased signs of tighter supply. WTI April crude oil futures closed up 2.44%, and Brent April crude oil futures closed up 1.32%.
Zinc prices were boosted by tight supply signs, hitting an eight-month high for the second consecutive day.
Fundamental positive factors:
1. On Wednesday (March 13), the US producer price index PPI rose by 0.1% in February, higher than the previous value of -0.1% but lower than the expected 0.2%. The commentary said that the US PPI recorded a slight increase in February. For the first year and a half, the minimum annual growth rate, durable goods orders increased by three months, which means that inflation rose moderately, to a certain extent can further support the Fed's determination to wait patiently on the issue of interest rate hike.
2. Data released on Tuesday (March 12) showed that US CPI data for February rose by 0.2%, in line with market expectations, at an annual rate of 1.5%, a two-and-a-half-year low. This continues the low and problem-free inflation that is the subject of conditions in most countries around the world, which will allow central banks to keep interest rates low.
Fundamental negative factors:
1. The US January durable goods orders announced on Wednesday (March 13) were 0.4%, lower than the previous value of 1.2% but higher than expected -0.5%; comments said that US new capital orders increased by two in January. The monthly high, shipping has also increased, indicating that companies have a strong spending on equipment at the beginning of this year.
2. On Monday (March 11), the US Department of Commerce data showed that US retail sales in January were 0.2% MoM, exceeding market expectations of 0%, which rebounded sharply from December. The rebound in data was mainly due to the increase in purchases of construction materials and the increase in discretionary spending. However, the December data was revised down at the same time, from the previous -1.2% to -1.6%. This decline was the largest since September 2009.
Outlook outlook
1. Analysts at the French Foreign Trade Bank (Natixis) said that the slowdown in US economic growth has weighed on the dollar and will eventually push the price of gold up to $1,400 by the end of the year. In his latest research report, the bank's precious metals analyst Bernard Dahdah reiterated his optimistic forecast for gold, which means that the average gold price will be around $1,330 this year and around $1,395 by 2020.
2. Phillip Futures analyst Benjamin Lu said that the uncertainty brought about by Brexit caused the risk sentiment to dissipate, and investors worried about the UK's "hard Brexit". The long-term trend of gold is optimistic. In the case that economic growth may slow down, market volatility will intensify and investors will be more interested in risk aversion.
3. The consulting firm Metals Focus's report released on Wednesday (March 13) concluded that US retail investment demand for gold and silver will rebound in 2019 and hit a high level at the end of the year. "We expect gold and silver prices to strengthen before the end of 2019. Although this will bring some profit, we believe this will be offset by more important retail demand, which will bring these two metals," said the analyst. One-digit percentage increase."
4. Standard Chartered Bank said in another report released on Tuesday (March 12) that central bank gold buying continued, but the pace slowed. According to the World Gold Council, the central bank bought 651.5 tons of gold last year, a record high in half a century. However, Standard Chartered said that this round of purchases has slowed down in early 2019. Analysts pointed out that Russia's purchases in January were 6.2 tons, the lowest monthly purchase since December 2006, less than one-third of the average monthly purchase of 23 tons in 2018.
Focus on Thursday
20:30 Number of people claiming unemployment benefits from the US to March 9
US February import price index monthly rate
22:00 United States January new home sales total annualization
22:30 EIA natural gas inventory for the week of the US to March 8


Editor in charge: Lu Shan RF10057