Home >Financial channel > text
The status quo of cash loan complete industrial chain and five major variant models
2019-02-11 07:05:55

Net loan home researcher Liu Meiru
It has been more than a year since the announcement of the Office of the Leading Group for the Special Remediation of Internet Financial Risks on December 1, 2017 and the P2P Network Loan Risk Special Rehabilitation Leading Group Office for more than one year, during the period of 2018. On May 30th, the Office of the Leading Group for the Special Remediation of Internet Financial Risks issued a letter on the proposal to strengthen the supervision of some "cash loan" platforms. The letter details the mobile phone rentback illegal lending, forced tying member services and Commodity disguised raises interest rates, maliciously causes borrowers to overdue, false shopping and then resells lending and other means.
Although the cash lending industry has become stricter, many cash lending platforms have also improved significantly through rectification. However, due to the low barriers to entry in the cash lending industry, there are many platforms that evade supervision through "changing vests", while most platforms It is also not in compliance with the "Notice on Standardizing the Refining of "Cash Loan" Business" that "no qualifications for operating lending business are obtained according to law, and no organization or individual may operate lending business", which means that many platforms do not actually have lending. Qualification. In addition, various types of variants of cash lending models on the market today are also emerging.
This paper firstly sorts out the complete industrial chain of the gold loan industry, and analyzes the development status of individual industries, then summarizes the "variable cash loan" model existing in the market, and details the current development status of the cash loan industry. Give advice on how to control risk.
Cash loan complete industrial chain
With the rapid rise of the cash loan industry, its related industries have also developed rapidly. As shown in the following figure, the industries related to cash loans mainly include system providers, collection industries, loan lending institutions, credit reporting agencies, etc., and because the cash lending platform has strong user traffic, it also spawns black industries such as data reselling. Causes user information to leak.
Figure 1 Related industry chain of the cash loan industry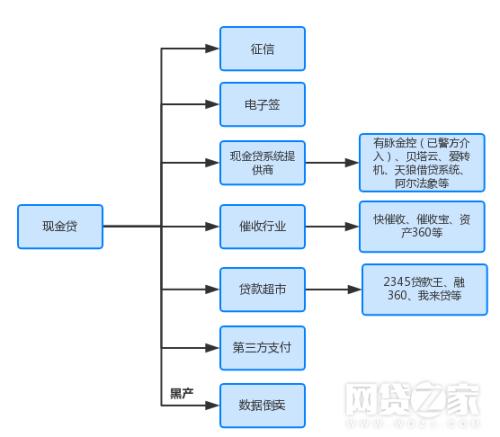 Editor in charge: Li Limeng RF13188